Ucontrol Pty Ltd are pleased to announce the launch of the new Blueline temperature controller and process controller range from Pixsys.
The Blue line range is a 48 x 48 DIN temperature controller which provides a number of innovative features and advanced functions which is unique for a controller in this low price bracket.
Set up of the controller can be performed in 4 ways.  It can be done by the frontal keypad via the configuration menu which is simple to interpret & displayed in  English abbreviated prompts.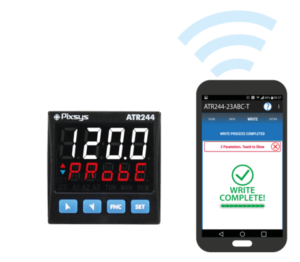 The quickest and most convenient method is by Android smart phone utilizing the Pixsys App available free of charge from Google play.  The connection is wireless via NFC, simply touch the controller front bezel with back of the phone to read, write or clone the set up.
PC Connection via mini USB is also available using free labsoftview software.  The USB port can also accept a mini USB flash card where settings can be stored and downloaded to the controller.
Helpful  for both for installation engineer and operator include the new scrolling help features.
As standard the Blueline temperature controller accepts universal inputs which include 4-20mA, 0-10V, R,S,T,N,J & K type thermocouple, PT100, PT1000, mV and potentiometer inputs.  If using 4-20mA loops the input can be active or passive and powered by the on board transmitter power supply.
Even in the most basic model, most of the common outputs are supported in one part number such as 0-10V, 4-20mA, relay, SSR & even servo valve drive for modulating motors.
This is in addition to standard features such as multiple relay alarms outputs, digital inputs & wide ranging power supply 24-240 VAC/DC.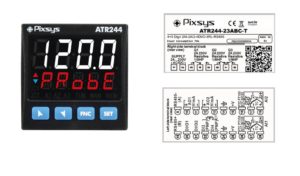 Optional Modbus RTU via the RS485 port is available in the 244-23ABC-T temperature controller.  A second analogue input, second PID loop and second analogue output are available allowing for advanced features such as dual loop PID control, cascade loop control, remote setpoint input, output & ratio control.