SR Series smart relays are available in2 versions; SR12-MRDC has 8 inputs and 4 mechanical relay outputs, SR22-MRDC has 12 Inputs and 8 mechanical relay outputs.
The Power supply is 12-24VDC, inputs can be PNP or NPN or 0-10VDC analogue signals.
The SR series smart relay  has a clip on frontal HMI which displays 4 lines of 10 characters, they can be used for operator access for view & adjustment  of essential parameters or just view of messages and status.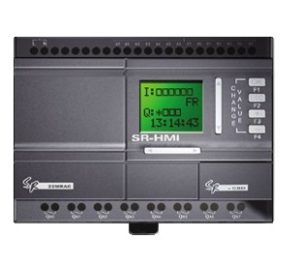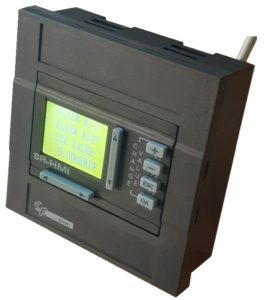 The HMI can also be mounted in a panel mount adapter kit eliminating the cost of an often expensive machine interface.
The Program software Supercad, is simple to learn FBD based tool which is  a free download. It has simulation and monitor features and a wide variety of standard functions including real time clock/scheduler, timers, up down counters and analogue comparators etc.
See;
https://www.ucontrol.com.au/hmi-plc.html  for full range of PLC solutions