The APM-CT-APO is a new APM panel meter optimised for 0-5 Amp secondary inputs from standard AC current transformers or CT's.  The APM has the great features of numeric display with 90 degree digital bar-graph, adjustable back-light colour, colour change on threshold, flash back-light on alarm and integrate static digital outputs on threshold.  Or up to 2 re-transmission outputs via 4-20mA,  to external devices or systems.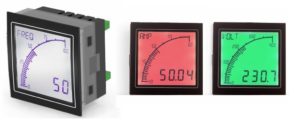 CT input range 0-5A & display range 0-9999A can be set either by external dip-switch with up to 20 preset ranges or universally adjustable configuration in free TRUAPM software.  Which is downloaded to the CT panel meter via standard USB printer cable.
The CT Panel meter is encased in an enclosure with an impact resistant bezel with  IP65 rating and accepts a 12-24VAC/DC power supply.
For further information please visit our digital panel meter webpage  https://www.ucontrol.com.au/